What is the International Student Seminar??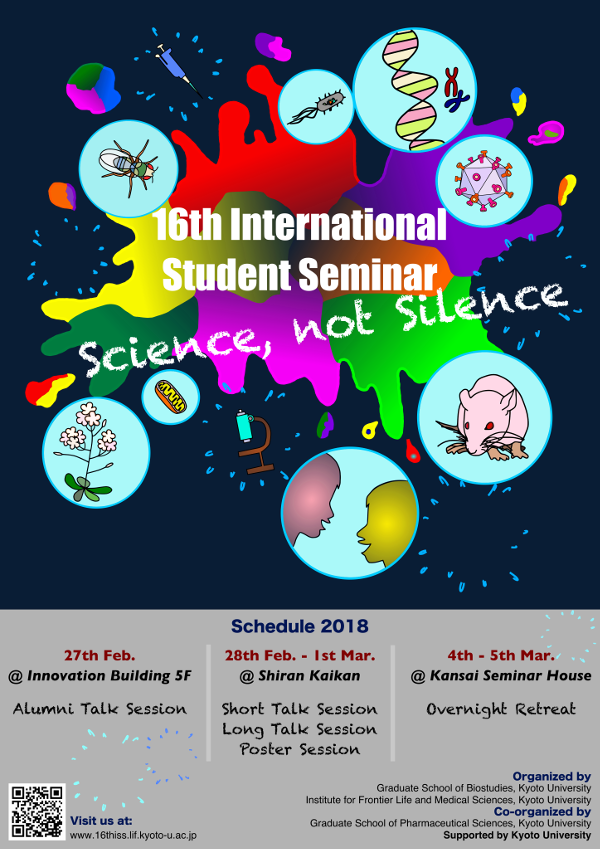 The International Student Seminar is an annual seminar organized by students from the Graduate School of Biostudies and the Institute for Frontier Life and Medical Sciences at Kyoto University, following our unchanging maxim- "BY the students, FOR the students."
The major aims of the ISS are to provide various opportunities for young scientists all over the world to be able to discuss divergent, intriguing areas of their research, and to create fruitful interactions throughout the seminar. Thanks to everyone's kind support, this year we are able to celebrate the 16th anniversary of the ISS.
This year's ISS will be held from February 27, 2018 to March 1st, 2018, and we are planning a special 3-day seminar. The first day will consist of special talks from several successful alumni from our university: they will discuss diverse areas and challenges in their lives and careers, followed by a panel discussion to give many students a chance to ask many questions related to their own future directions and career paths. Following this special seminar, we will have our regular symposium from 2/28-3/1, consisting of many short-talks, long-talks, and poster presentations from diverse fields in biosciences.
After the symposium, there will be an Overnight Retreat from 3/4-3/5: this informal event will include several recreational activities. After the rigorous seminar, this will be a great opportunity to build important connections with people all over the world, without any boundaries or barriers.
Our slogan for ISS16 is "Science, not Silence." This theme reflects on the lively, passionate discussion of the participants during the seminar, as well as the cutting-edge approaches and discoveries that this year's participants will present.
We sincerely encourage you to join this year's seminar. Let's break the SILENCE- bring your SCIENCE to the 16th International Student Seminar!!!
Yutaro Shirasaka
Chairperson of the 16th International Student Seminar (Kyoto University)